We are experts in the fields of 3D printing and additive manufacturing.
Some ideas may only come alive by the use of 3D printing.
Additive manufacturing methods such as laser sintering or stereolithography are often the better alternative to established manufacturing processes due to small lots or high complexity  of the components.
We will print prototypes, design objects, architectural models, advertising materials and so forth as a single piece or as small batch series. As an expert for rapid prototyping and additive manufacturing we are specialized in creating functional prototypes and assemblies for product development.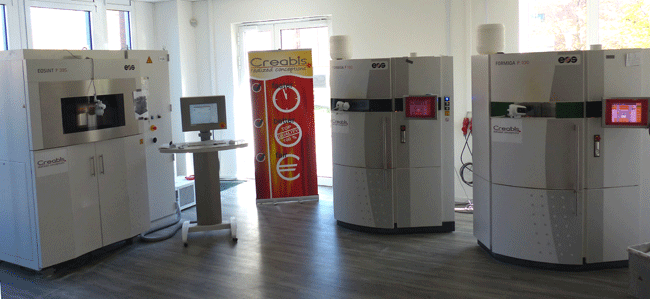 Due to our diverse range of machines including EOS plastic laser sintering units in different sizes (SLS), PolyJet and RepRap 3D printers as well as systems for the stereolithography (SLA), we are capable of finding the perfect combination of different technologies and materials for your project.
You can rely on our expertise as a 3D printing service provider with a wealth of experience in producing complex and high-quality prototypes for branches such as consumer goods, life-style, automotive industry, motorsports, aerospace or medical technology.
Every common material such as filled and non-filled polyamides, polypropylene-like or epoxy based resins is handled on our machines.


Ask for more – we are proud to help you to find the optimized 3D printing method and the perfect material.