Even anthracite-colored parts must blaze in the most dazzling of colors? Then we recommend this automatic process capable of realizing a wide color palette – including metallic ones.
Application area
sintered sample, functional and design parts made from polyamid – available in grey as well
for individual coloring
for superior feel
for colorful accents
as impregnation (waterproof & dirt-repellent)
for protection against abrasion
as UV-protection against discoloration from the effects of light
Color palette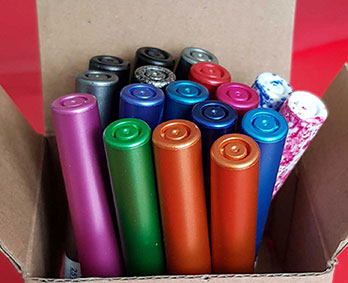 This coating is perfect for small batches and parts with a diameter of less than 8 cm. Additionally, it's significantly cheaper than conventional paintwork.
And what does that mean for you?
Colored objects visualize upcoming application areas faster and closer to.
Small batches are directly applicable.
However, production time is extended by 8-10 working days.