YOU WISH TO HAVE A LAQUERING?
We are glad to ennoble your parts with fascinating colors.
Scope for spray painting
sample, functional and design parts made with laser sintering from polyamide
SLA parts made from varying plastics

for individual coloring
for enhanced visuals
for shiny or matt surfaces
for special accents
as a protection against outside influences
as impregnation (watertight & dirt-repellent)
as a protection against color change under the effects of light
Color palette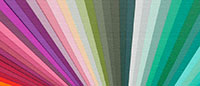 (Picture only exemplary)
We varnish all colours according to RAL
and also special colours are available.
And what does that mean for you?
Our high-quality lacquered objects are ideal for presentation purposes.
Small series parts are directly usable or applicable.
And the special thing about it:
The production period is only extended by approx. 2 working days.