Laser sintering (SLS)
SELECTIVE LASER SINTERING (= SLS) is a generative manufacturing process that uses a laser beam to melt powdered material according to the specific shapes defined by a 3D CAD model, result is a solid structure.
It is one of the most productive and simultaneously most cost-effective processes and is used to create prototypes and small batch series.
What makes this so special is that, in contrast to conventional production processes, here it is possible to create very complex, three dimensional geometries – even with undercuts – within a fairly short time. 
Scope for SLS
functional, durable, single pieces suitable for series production, prototypes and small batch series
cost-effective for
complex parts
small batch production
the more complicated a part is the more cost effective the use of SLS might be
Basic materials
Polyamide PA 2200 unfilled, white - our standard
Polyamide 12 - HP grey
Polyamide PA 12 smooth unfilled, white - our standard with optimized surfaces
Polyamide PA 1101 unfilled, white opaque, high flexible
Polyamide PA 12AL filled, anthracite, grindable, high-grade haptics
Polyamide PA 12-L1600, white, high mechanical performance
Polyamide PA 12GF filled, white, high regidity and high elongation at break
Polyamide PA FR2241 flame-retardent polyamide
TPU CREA90A flexible TPU, offwhite
Maschines
HP Jet Fusion 3D 4200
Laser sintering machine by HP
Assembly space 380mm x 380mm x 284mm
All components are grey.
This machine is especially useful for faster and more economical productions of fully functional small series and components with complex geometries.
…
…
…
prodways ProMaker P1000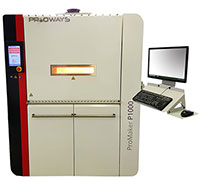 prodways laser sintering 3D printer
300mm x 300mm x 300mm build platform
The ProMaker P1000 plastic 3D printer offers industrial performance and high precision. Built parts show superior surface finish, made possible by a fine laser beam and a digital galvo scanning system. Like the other printers we use it for efficient small series production and parts with complex geometries.
…
…
…
EOS Formiga P 100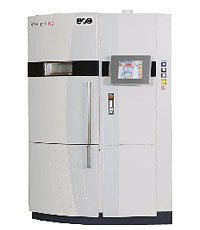 Lasersintering machine by EOS GmbH
Assembly space 200mm x 250mm x 330mm
These machines are useful for economical production of small series and individual products with complex geometries and small dimensions. Furthermore these machines provide capacities for rapid and flexible prints of fully functional prototypes.
…
…
…
…
EOSINT P 395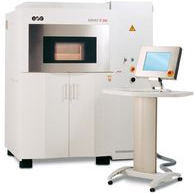 Lasersintering machine by EOS GmbH
Assembly space 340mm x 340mm x 600mm

This machine ideally upgrades our portfolio of smaller SLS-machines and is fully comparable to our existing Formiga P 100-machines with regards to speed and quality.